Hey, all you Beautiful out there!
Today I'd like to tell you a little bit about a hair care product that has stolen my heart lately. It's Nanoil Charcoal & White Clay Hair Mask which I can call the best hair cleansing mask that I've ever had an opportunity to use. Are you curious what this marvel is and whether I'd recommend it to everyone without exceptions? If so, please continue reading 🙂
Nanoil hair masks. Meet them all!
If you read my blog regularly then you must have seen a post on Nanoil hair oils. I do like Nanoil oil blends for high/medium/low porosity hair (thanks to them I managed to regenerate my unmanageable hair) for the high quality they offer, the well-selected natural ingredients and of course for being cost-effective hair care products.
Today I'm adding Nanoil hair mask to my top cosmetic list. Actually, there are five of them (charcoal, argan, silk, keratin and algae) and each one is responsible for dealing with other hair problem. Let me give you several reasons why it's worth getting interested in these hair care products.
These are lightweight and non-overburdening hair mask.
They are based on natural and well-selected ingredients.
The hair masks are highly effective and improve hair appearance quickly.
Hair mask with charcoal and white clay by Nanoil
I chose charcoal and white clay hair mask which is a hair cleansing product. It seemed to be perfect for me!
Nanoil Charcoal & White Clay hair mask is based on – as the name speaks for itself – a duo of cleansing substances. You can find here activated charcoal and white clay, which I guess most of you associate them with face care. Nanoil, however, shows us that hair can also benefit from both of these natural substances.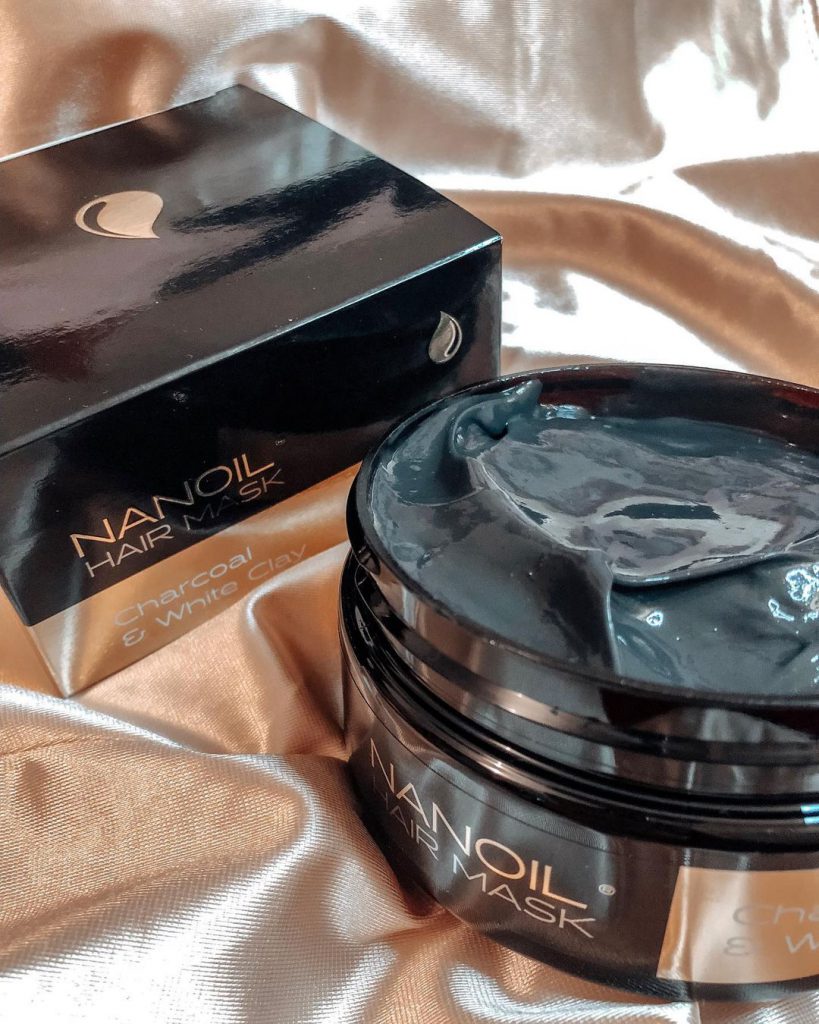 Here are the key properties of these two major ingredients:
activated charcoal is a natural detoxifying substance that deals with harmful toxins and cleanses skin thoroughly leaving it free from the build-up of various impurities such as dirt, excess sebum, cosmetic residues, etc.
white clay also has cleansing effect yet it's gentler because most of all it focuses on nourishing, soothing irritations and relieving all scalp conditions (e.g. itchiness).
Does Nanoil hair mask have more interesting components apart from these two above-mentioned? I checked INCI (in my opinion it's well-composed) and I found there: panthenol, marine algae extract, vitamin E, retinol as well as moisturizing glycerin and regenerating proteins. The entire list of ingredients looks really impressive and I think that each hair type shall find something for them.
How does Nanoil Charcoal & White Clay hair mask by Nanoil work?
Okay, it's time for the issues that are the most interesting. Now I'm going to tell you what I actually achieved thanks to regular application of Nanoil hair mask with charcoal and white clay.
First and foremost, this is a perfect cleansing mask for hair and scalp. As you probably can tell right now, it's prime task is to leave hair and scalp fresh – the mask is able to do this, without a doubt. Apart from this, Nanoil Charcoal & White Clay Hair Mask takes care of, nourishes, moisturizes, helps to regenerate and does everything that a good hair mask is expected to do with hair and scalp. I think it's a 2in1 product – it gives you clean scalp and revitalized hair.
Benefits of Charcoal & White Clay hair mask by Nanoil in a nutshell:
cleanses scalp and hair from what your shampoo isn't able to remove
reduces itchy scalp and soothes irritations
lifts hair roots, leaves hair fresh and bouncy
has an antioxidative effect and makes hair look beautiful
deals with dandruff and oily scalp
improves moisture, nourishes and aids in regeneration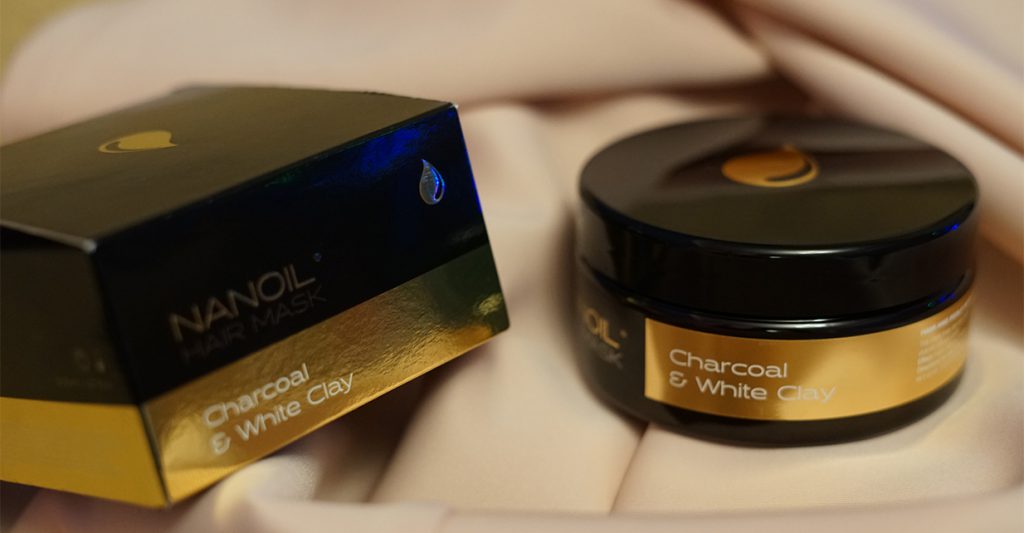 Obviously, these are just words, but they aren't empty – they explains how Charcoal & White Clay hair mask by Nanoil works. They depict what I noticed myself while using this hair care product regularly.
MY HAIR BEFORE: got oily awfully fast, I had to wash it every day, was flat in the morning, the scalp was itchy and the hair looked really weak
MY HAIR NOW: is noticeably lifted and revived, I see it being more resilient and resistant to damage than before, doesn't get oily that fast so I don't have to wash it more often than every 3-4 days, I can spot no signs of dandruff or itchiness; my hairdo looks perfect every day
I achieved all of this thanks to Nanoil Charcoal & White Clay, a hair mask that you can buy in the official e-store www.nanoil.us.
You won't be disappointed! <3