I know that many of you are looking for a gentle but effective care product to fix and soothe reactive skin. To help you with this pretty tricky task, I've prepared a list of my absolute favorite anti-redness serums (Note: I've tested more similar products, of course). Each one of these 5 soothing serums suit my skin, and I truly believe they should work for you too.
Why face serum?
Surveys show that quite a number of users consider a face serum a completely unnecessary expense. Well, I'm sure they have never had the opportunity to use this product to see how amazing it is at improving skin's appearance.
During winter, I like treating my skin with a retinol serum but for the rest of the year I prefer to use a serum dedicated to couperose and redness-prone complexion. What exactly can a face serum do?
The best thing about a face serum is that it's a highly concentrated and rich care product, targeting a particular group of skin concerns. Additionally, a face serum contains active ingredients but almost no fillers – some serums have zero fillers. Another important issue – the texture. Even though there are water-based, oil-based and gel face serums, all of them are expected to penetrate skin fast and fully, reaching the deepest skin layers. In other words, they reach deeper than other regular skincare products.
So, this is why I suggest using a face serum on a daily basis – you can thank me later 🙂 Now, let's move on to the products that – at least for me – do an amazing job. Here are my favorite serums for couperose skin.
TOP 5: My absolute fave anti-redness face serums
1.

Nanoil Anti-Redness Face Serum
Size: 50 ml / 1.69 fl. oz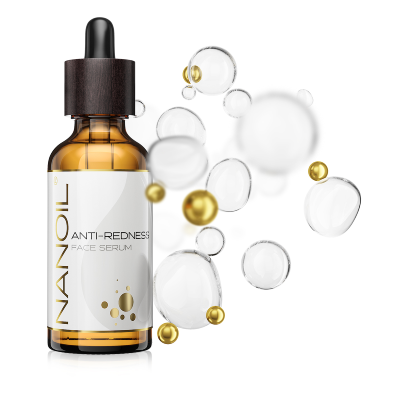 It won't be anything surprising when I say that the effects are what I like about Nanoil Anti-Redness Face Serum most. It takes it just a few seconds to alleviate this uncomfortable feeling of irritated skin. Application is totally effortless – the serum spreads easily over the face and absorbs into skin quickly. Since it has 50 ml, I can use the serum even twice a day without worrying that I'll run out of it fast. Spider veins that used to be common for me, pose no problem any longer. Skin tone is also even. Thanks to regular use of Nanoil Anti-Redness Face Serum, I can now leave my home without wearing any foundation. Not only is my skin better-looking but also it's more resistant to external aggressors. The effects, the size and reasonable price make Nanoil serum the best bet for me. If you want to, you can read more about this anti-redness serum (or order it) on nanoil.us
2.

The Ordinary Ascorbyl Glucoside Solution 12%
Size: 30 ml / 1 fl. oz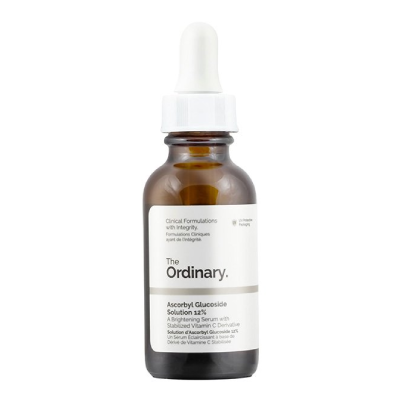 My redness-prone skin also likes vitamin C and that's why I couldn't help myself but test The Ordinary brightening serum. The form of vitamin C used in this product is gentle on the skin, meaning that it isn't expected to trigger any reaction even in the most delicate skin types. As I've tested a couple of brightening skincare products, I think that serums enriched with vitamin C do a great job. Apart from reducing redness, The Ordinary Ascorbyl Glucoside Solution 12% also makes skin stronger and banishes irritations. To be totally honest with you, I didn't like this serum at the beginning because instead of erasing redness from my face, it actually caused it! However, on the leaflet you can read that this side effect may happen at the beginning. Luckily, after a few days of regular use my skin got used to this serum. The price is another plus to mention. Lastly, even though The Ordinary Ascorbyl Glucoside Solution 12% doesn't work well under makeup, it's a very good night serum.
3.

Dior Capture Youth Redness Soother
Size: 30 ml / 1 fl. oz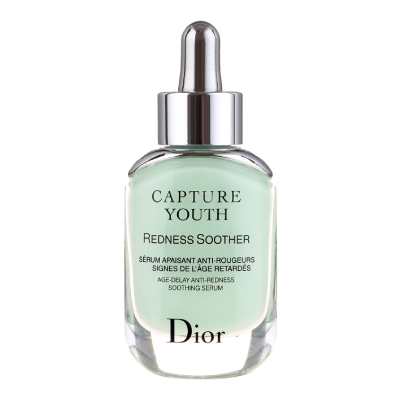 I like spoiling myself from time to time, that's why once I bought myself Dior face serum – crazy, right? Its beautiful turquoise color had me, I won't lie. Well, although the bottle seems to be larger, it holds just 30 ml of the product. After buying the serum I found out that it delivers the promised results when used together with Dior face cream. So far I haven't bought the cream because it's too much for me. I don't want to spend more money. To my surprise, however, the face serum alone turns out to be really good. The key ingredient is cotton peptides that are responsible for soothing irritations and boosting skin's resistance to triggers. Dior Capture Youth Redness Soother is easy to apply and penetrates quickly. If you want to, you can use it even twice a day – I introduced it into my morning routine. I have to admit that I didn't notice anything more spectacular in using the Dior product than what the two above-mentioned serums can do.
4.

Cosrx Pure Fit Cica Serum
Size: 30 ml / 1 fl. oz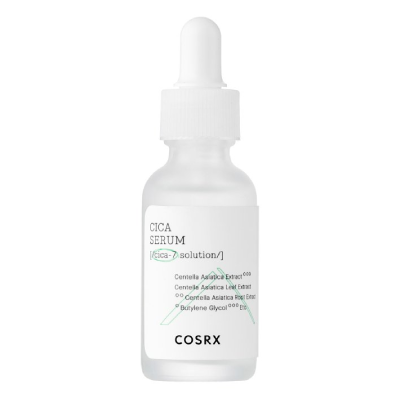 This serum is designed for sensitive skin so it also works for couperose skin. It's formulated with the ingredients that soothe, moisturize and regenerate skin. Carrying Cosrx Pure Fit Cica Serum in my bag, I know that I can combat any type of irritation that appears on my face out of nowhere. On top of that, this serum is able to deal with inflammation, yet I can't say that it's good at minimizing the problem of dilated blood vessels. Still, I like Cosrx Pure Fit Cica Serum very much anyway because it also makes my skin more resistant to external aggressors. Oh, I should also mention that Asian pennywort, that the serum contains, promotes collagen synthesis which translates into a younger-looking appearance. I use no more than 2 drops per application, and that's enough to cover my entire face.
5.

Medik8 Calmwise Serum
Size: 15 ml / 0.5 fl. oz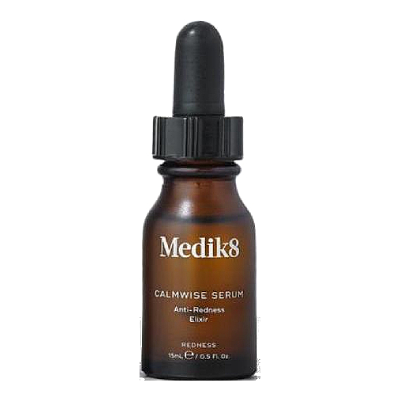 Lightweight texture is what I love about this serum most. Since there isn't much product in the bottle – just 15 ml – I apply it topically rather than spreading it all over my face. I don't want to run out of it too fast. The good news, however, is that spider veins and redness get brighter after just a couple of uses of Medik8 Calmwise Serum. The more you use this serum, the more even-toned the complexion becomes, which is obvious. I can also say that this soothing serum delivers a pleasant feeling of hydration. It works for my morning and evening routine. Despite being a really great product, the price to size ratio isn't profitable for me. And for this exact reason, I give it the last place on my ranking – but I like Medik8 Calmwise Serum anyway.