Hello Everyone!
There were many things said about eyebrows and probably plenty of you are now wondering what else can be said so as not to repeat things that everybody knows well. It appears that we should repeat the basic stuff because many women repeat the same old mistakes in eyebrow care. For example, lots of ladies neglect brow care completely, and they go like: "Eyebrow serum? Are you serious?! Why on earth would I want such thing?" Riiiiight… Then there is moaning and complaining that the brows look like sad, thin threads instead of being marvelous just like Dua Lipa's.
Okay, okay… I'm being a smart aleck and I'm giving you a jaw about brow care, but I've to admit to something. Well… I belong to the group of women who overplucked their brows for YEARS, heh, it was trendy back then. But when the time for normal, bushy and thick brow appeared – so when the trend for looking like a normal human being finally emerged – I screwed the pooch. I noticed a few hairs growing back but in general the outcome was pathetic. I fell into despair so I began wondering whether I'd been doing something wrong, perhaps I hadn't taken good care of my brows… or something…?
Naturally, I gave castor oil a go (I truly don't know why some people admire the oil so much). Then I turned to vitamins in drops. Neither vitamin A nor vitamin E helped… Honestly, I started bothering that my eyebrows might be some phenomenon – in a negative sense, of course – so day by day I noticed this growing envy in me when I was looking at stunning brows that other girls had. Such eyebrows are something – the entire face changes completely: it looks more self-confident and younger!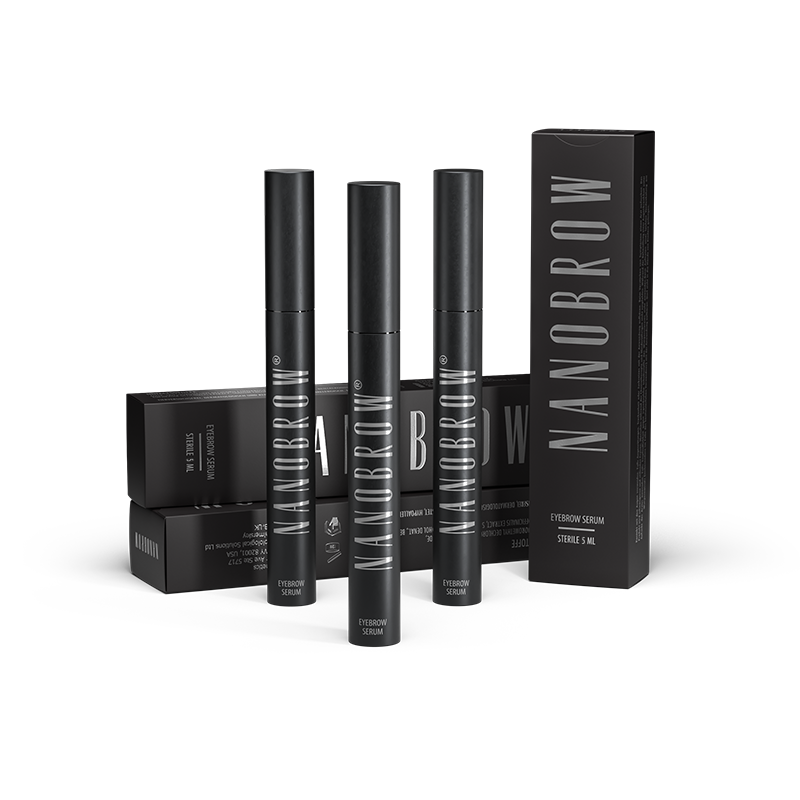 It turned out that I was making a cardinal mistake in brow care: I DIDN'T STIMULATE THE FOLLICLES. This simple and obviously logical rule was explained to me by my beautician. Thanks to her I found absolutely the finest eyebrow serum, which is Nanobrow. I've to add here that there are loads of eyelash serums/boosters/conditioners on the market, but most of them don't live up to our expectations, they simply don't work the way they should. But coming back to Nanobrow, owing to this product my brows started GROWING BACK! FINALLY! Nanobrow helped when everything else failed, when I lost the hope to get my bushy brows back. What a relief. Okay, so that was my introductory word. Let's get into more details about this life-saving eyelash serum.
Nanobrow: Product description and ingredients
Nanobrow eyebrow serum looks just beautiful, it's elegant, but this doesn't announce (or should I say 'promise'?) effects that exceed all expectations. This is a beauty product that has fairly short and well-selected composition. Nanobrow works on point!
And there is a lot of to boast about because among the plant extracts Nanobrow offers germ extracts (soy and wheat) that are combined with a mega combo responsible for activating brow follicles to more efficient work, which is this famous baicalein that is one of the strongest substances to reinforce hair with (extracted from scutellaria baicalensis). Moreover, Nanobrow also contains arginine (which is a precious amino acid, which is a big love of hair), vitamin B5 as well as natural vegetable glycols and active peptides that foster the growing phase and maintain the good look of hair. Nanobrow is a master composition. In no other eyebrow serum did I found so amazing substances responsible for accelerating brow growth and enhancing the hairs looks.
Nanobrow is safe, tested by dermatologists and really efficient. I was surprised that after a few months of regular use the serum remained fresh; the consistency didn't change a bit throughout the entire course of the treatment. Of course, I took care of the brush, or to be more precise I took care of the sponge that the applicator is. I kept washing it often and each time I applied the serum, it was to clean and degreased brow ridge. I was sure that when I start gliding the sponge-applicator over skin that has just been treated with cream, then the sponge will get dirty and the cosmetic residues would get inside the tube and spoil the serum, or at least negatively influence its effectiveness.
Nanobrow: Effects, action and my opinion
Does Nanobrow eyebrow serum really work? Of course, it works! My used-to-be unskillfully over-plucked brows – that was almost impossible to grow back – are the proof. To me, Nanobrow is an unrivaled product and its cost-effective.
And here's my opinion: Despite the fact that for really long I ignored products like eyebrow serums completely and basically I didn't plan to spend anything, even a really small amount of money on one of them, I have to admit that I'm glad that I followed the advice of my beautician and I chose Nanobrow. I'm almost certain that I would never get an eyebrow serum if it wasn't for her.
Today I can be the one who recommend Nanobrow to other women whom took ages for to grow their brows back and somehow still end up failing. Let me comfort you: there's a lot to be retrieved as long as we have Nanobrow!
How did this big brow comeback look like in my case?
For the first two or three weeks… pretty nothing happened – I couldn't see any effects except that I noticed my brows got stronger – they became visibly darker.
After a month 'something' started growing back. I thought that even without eyebrow serum I saw some brow hairs growing here and there so I was almost sure that the serum wouldn't do much since most bloggers claimed that they noticed, let's call them, baby brows after three weeks of regular use. But since I had Nanobrow and I'd decided to undergo this treatment – I kept applying the serum. Fortunately, it turned out that my brow follicles happened to be really stubborn and that they were severely damaged. Still, even they had to give up to the power of Nanobrow 🙂
After six weeks I spotted plenty of tiny black dots appearing on my brow ridge: small brow hairs started growing out! Yeah baby! I was more than happy! Today I enjoy having thick and dark eyebrows. They aren't only as thick as I wanted them to be but also they are as healthy as I expected them to be – it's clear to see that they won moisture, elasticity and shine. They are easier to style and all colour cosmetics for brows stay true for longer.
Nanobrow: How and why should you use eyebrow serum?
Nanobrow doesn't pose any problems when it comes to using it: once a day, at bedtime, after makeup removal apply the serum along clean and dry brow ridge. Keep doing this every day. Nanobrow penetrates skin quickly and doesn't leave stains.
Although my eyebrows were fatigued, in a miserable condition and hard to grow back, it took some time for me to retrieve my old looks. However, I've read on other blogs that girls managed to get their old eyebrows within a month! Great for them!
Why is Nanobrow worth using? Firstly and obviously, to get beautiful, neat and thick eyebrows. Many women complain about having fair, sparse, thinning, ruined and ill-shaped brows which condition is so poor that no 'tuning' is possible. Well, here you are! Eyebrow tuning with Nanobrow – I guess there is no other and better 'brow mechanic' than this eyebrow serum 🙂 I recommend it to all of you! 🙂
Visit nanobrow.us