My dear Stars! ★
This entry was made at your request. It's an answer to all your questions:
Which brow pomade is the best?
Which brow pomade should I go for?
What do you recommend for brow makeup?
What is brow pomade?
How to choose a good brow pomade? etc.
I compiled all the questions regarding brow pomades and it inspired me to not only answer all of them but also prepare a rundown of the best brow pomades worth buying. Welcome, brow pomades are the queens of today's post! Meet the best brow pomade and read my personal ranking. Answers to your questions are down below.
Recommended brow pomades – my ranking

What is the best brow pomade? Guys, to be fair, I didn't have any difficulties choosing the winner. All I needed to do is follow the criteria (formula, consistency, makeup effects, price, shades, performance, capacity, efficiency…). The pomade that met the criteria won. Here are the best brow pomades arranged from the best.

Nanobrow is a recommended brow pomade that gains more and more popularity and amazes even professional makeup artists. It met even the strictest of my requirements of quality, performance, consistency, and colours. It's literally flawless! It's especially malleable and soft and makes makeup enjoyable and uncomplicated. The brow pomade has gorgeous neutral shades suiting warm- and cool-toned skin colours. There are 3 of them so you will have no problem choosing your favourite. The price is also favourable – I couldn't rub my eyes from surprise:) I picked 2 colours and a "light brown" for a friend so I saw every shade in real life and I admit that every single one is very cool <3 They're rich and intense, each brow pomade is well-pigmented and simply brilliant – the product guarantees you wonderful, long-wear makeup at all times. Thanks to the Nanobrow pomade I can swim in the pool or train in the gym without worrying it runs down my face. The formula is vegan and cruelty-free <3 Love Nanobrow!

ANASTASIA BEVERLY HILLS DIPBROW POMADE

Yes, I know that everyone praises this product and calls it the best one ever. I also know that I'm not original in this aspect – some things don't change, especially the fact that the Anastasia brow pomade is, in fact, a great product. The pomade's founder has perfected it to every detail and it's her pride and joy. Anastasia Beverly Hills Dipbrow Pomade is a brow pomade worth recommending, fantastic for professionals. Well, unfortunately, its price is also suited for makeup artists, haha. I like its untypical consistency… It doesn't have a traditional, real brow pomade formula as it's a bit similar to a gel. What's more, both its packaging and application classify as a pomade, so let's keep it that way! There are many shades to choose from and I don't think the screens display their real colours well which makes it difficult to pick the right one. The brow pomade is waterproof, long-lasting and colours eyebrows incredibly well!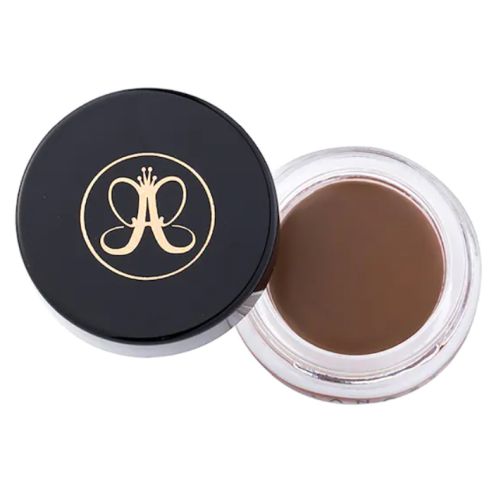 TARTE FRAMEWORKER™ BROW POMADE

I'm pretty sure I surprised you with this proposition a bit because you were probably expecting a Benefit product or KVD Pomade, however, Tarte is a better option for me when it comes to the consistency, colours, coverage and makeup effects in general. Kat Von D, on the other hand, has released more of a tinted lip liner and eyeliner in the form of a cream in a jar – it doesn't really resemble a pomade so it's not included in the ranking. Tarte is a common choice among casual shoppers and is recommended by many MUAs. I'm wondering whether its price is adequate for its quality… Unfortunately, I think we're paying more for the brand name. Because its consistency and shades are of good quality, the pomade earned a mention in my list. It's also pretty efficient which compensates for the cost a little. You can find babassu oil in the composition but, in my opinion, it only disrupts the pomade's performance.
BENEFIT POWMADE BROW POMADE

Here it is – brow pomade by the renowned Benefit brand. You ask me often what I think about it and if I consider it the best brow pomade. Well, it is nice but to give it the 1st place on the list? No way. I do believe it colours eyebrows well and its performance is quite long-wear as well. However, I could say a few things about the available shades: there's not much to choose from, and the majority of colours has warm undertones… The choice is limited to 3 or 4 options. I'm aware that this brow pomade is a popular choice but I think that nowadays when there are so many newer, refined and better options, Benefit should do a little upgrade of their pomade.
WEST BARN Co. THE BROW POMADE

The last place on my list is a brow pomade I chose out of sentiment. It was the only one with a budget-friendly price that lets me achieve a decent makep effect. Its shades aren't too fake-looking, as well. These days, I wouldn't buy it because my Nanobrow is such a fantastic alternative but if you want to try this legendary brow pomade which appeared on the beauty market as one of the first ones, you can!… It's best to treat it like a makeup fun fact 🙂 I believe this product is dedicated to fans of bolder, and strongly defined eyebrow arches. It's a pity that its capacity is so small and that even if you close the jar carefully, the pomade dries out rather fast. :/
How to do makeup with brow pomades?

You ask me about it very often! How to do makeup with brow pomade so it looks professional? The key is, of course, a good brow pomade. It matters what colour you use, as well, as it guarantees you natural-looking makeup. It's best to choose a lighter shade because way too dark colours make you look… older! What's next? How to do brow makeup with pomade? Here's my way:
1. I do my entire face makeup and I take care of my eyebrows at the very end. I brush them to get rid of the makeup residue or face powder.
2. I scoop a little amount on the small, flat and slanted brush. I map the lower eyebrow edge and draw a thin line.
3. Time for top edges: create another line, keeping in mind to shape the eyebrow correctly. Remember about the brow tail, too! The top edges should be subtle so after finishing makeup, comb it with a spoolie so the lines aren't as sharp.
4. Now I fill both eyebrows with brow pomade, starting from the brow tail and moving my way to the front of the brows, colouring the parts closer to the nose less intensely. This results in a natural makeup look.
I brush my hairs one more time using a spoolie and… done! So simple, right? The key to making eyebrows perfectly shaped is contouring them with a pomade.
How much is brow pomade?

Exactly… I have a lot of these types of questions in my inbox. The better question would be: if you want a good-quality pomade, do you have to pay a lot? I hope my ranking showcases that it doesn't have to be this way! We often pay for the brand name, especially if it's well-known and worldwide famous.
What brow pomade colour should blondes choose?

There are, of course, brow pomade shades for blondes. Go for light browns and greyish shades if you have cool-toned skin. Light browns might be available in a neutral version so you will easily find your favourite shade for yourselves.