Are you looking for a perfect hair conditioner? I've got a stunner for you. A thing that appeals to the most picky users. A product that hair-care junkies rave about. A conditioner that is going to amaze you with the lightness and brilliant effect!
This review is devoted to Nanoil Argan Hair Conditioner, that is the best conditioner rich in argan oil.
To be honest, the entire argan oil line from Nanoil is worth a try. After all, it's based on golden argan oil from Morocco! It is very beneficial and has a brilliant effect because Nanoil uses only quality substances in their products so this conditioner is rich in cold-pressed, unrefined argan nut oil. The one that is the highest in essential omega acids, phytosterols and vitamins. If you've never tried argan oil on your hair, this is the best moment to give it a go.
Nanoil hair conditioner with argan oil
ORIGINAL NAME:
Nanoil Argan Hair Conditioner
This product has been designed with attention to detail. It's rare for a conditioner to combine two great benefits: it's lightweight and effective. Nanoil Argan Hair Conditioner works instantly, making hair smoother and easier to style without weighing it down (even though you don't rinse it). This bi-phase hair mist is both very easy and nice to use because it enhances the hair look right away.
Looking at my fine, weak hair, prone to splitting and frizz, I thought that the argan conditioner would work best. I wanted a product that would help me control the unruly strands, give a strengthening boost and enhance the natural beauty. If you also want to make your hair look its best, get a Nanoil Argan Hair Conditioner. Satisfaction is guaranteed!
Benefits of Nanoil Argan Hair Conditioner
A big question: what does the Nanoil Argan Hair Conditioner actually do? Is it really good value for money? To me, IT IS!
I first used my Nanoil Argan Hair Conditioner a couple of weeks ago. I didn't have to wait long for the effect because I could see it after the first use. I sprayed the mist on my towel-dried hair and left it to air-dry as usual. The difference was I could smoothly run the fingers through my hair because it was very soft and sleek.
Easier styling and better-looking hair aren't the only effects after applying Nanoil Argan Conditioner. I've also noticed:
– moisturizing effect and no more dry strands.
– shine boost, deeper color, resilience.
– no more frizzy and static flyaways.
– protection against splitting and damage.
– stronger hair with next uses.
Obviously, organic argan oil is the number-one ingredient in the formula and it comes in a large amount, which is a nice surprise because most conditioners "rich in argan oil" have only some scant amounts of it. Nanoil produces only top-quality cosmetics so this lightweight hair mist is high in argan nut oil. There's more, though!
The Nanoil Argan Hair Conditioner holds also large amounts of castor oil (boosts faster hair growth, inhibits thinning, balances the scalp pH) and panthenol (pro-vitamin B5 with a strong nourishing and revitalizing effect).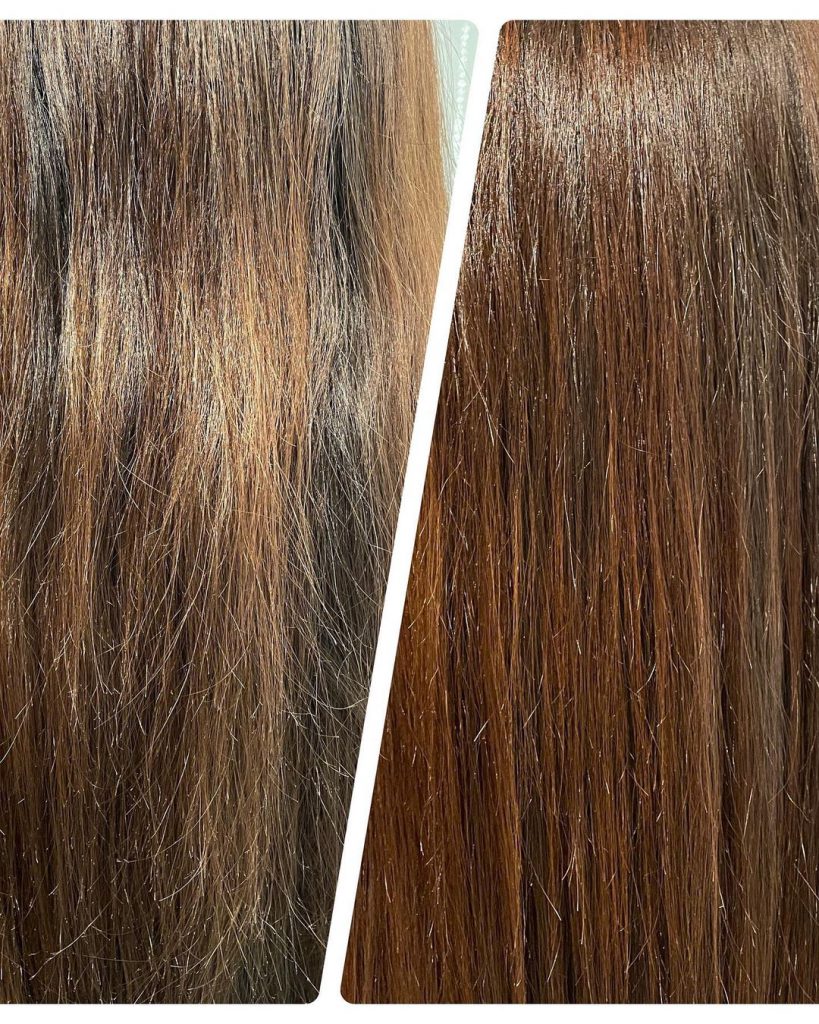 Does the Nanoil conditioner contain any silicones?
Nanoil debunks the myth that silicones are bad for hair. They are not! We just need lightweight, easily washed-out, hair and scalp-friendly silicones that are found in Nanoil Argan Hair Conditioner.
The silicones have three tasks to fulfil. Firstly, they act as styling agents, making hair smooth, easy to comb (even with the fingers) and manageable. Secondly, they have a beautifying effect and, blended with oils, they make hair more luminous and enhance the color. Additionally, they guarantee protection by enveloping the hair to lock in moisture and nutrients, and keep hair safe from damaging external factors. In other words, silicones make the Nanoil Argan Hair Conditioner work great.