Hey girls!
Today I'd like to give you a short but – I hope – pithy and useful review of the latest offering, which is keratin micellar shampoo by Nanoil.
I'm familiar with Nanoil products, I use them and I love them, and this emotion is requited because I have an impression that the products love my hair back and make my strands look gorgeous. To me, the micellar shampoo series by Nanoil is a revelation of the last weeks. I bought them almost the moment I learnt about their premiere and religiously tested them for the purpose of this review. I was wondering which micellar shampoo to pick and finally I went for micellar shampoo enriched with keratin because I had a feeling that this is exactly what my slightly damaged hair needs. Naturally, I also selected a conditioner and keratin hair mask just to make the hair treatment complete. (This issue deserves to be given a separate post.)
Is keratin micellar shampoo by Nanoil able to cleanse the hair deeply and effectively? Does it serve weak hair well? Does it match my hair? Would I recommend it further? The answers to these – and more – questions can be found below 🙂
However, before I move on to expressing my feelings and impressions concerning this micellar shampoo, let me give you a few words about the product itself – the ingredients, effects and the best place to get Nanoil shampoos from.
Nanoil Keratin Micellar Shampoo
This is a well-designed cosmetic sold in elegant packaging, which seems to be a characteristic feature of Nanoil products. It's black-and-gold which I immediately fell in love with. Obviously, packaging isn't the most important issue to take into consideration while buying a personal care product, yet it's cool to have nice-looking things standing on a shelf, isn't it?
It's worth realizing that this micellar shampoo for damaged hair by Nanoil contains three key ingredients that cleanse the hair, help it repair faster and provide protection from dehydration and damage, etc.
The very three key constituents of Nanoil Keratin Micellar Shampoo are:
micelles – molecules that catch and remove all types of dirt and impurities from the strands and scalp
keratin – protein that creates hair shafts and thus is able to fix the damage
castor oil – natural extract that adds shine and promotes hair growth
Although castor oil is placed on the top of the list of ingredients, the shampoo is surprisingly lightweight and highly effective, which is owed – I'm sure about it – to the micellar formula. Instead of making strands flat, this shampoo leaves it fresh and smooth, which is exactly what frazzled hair lacks. This is the only such shampoo that washes and repairs hair at the same time. I guess, it's worth realizing the shampoo alone mayn't fully rebuild extremely damaged strands, and therefore it's better to combine it with a conditioner and a good hair mask.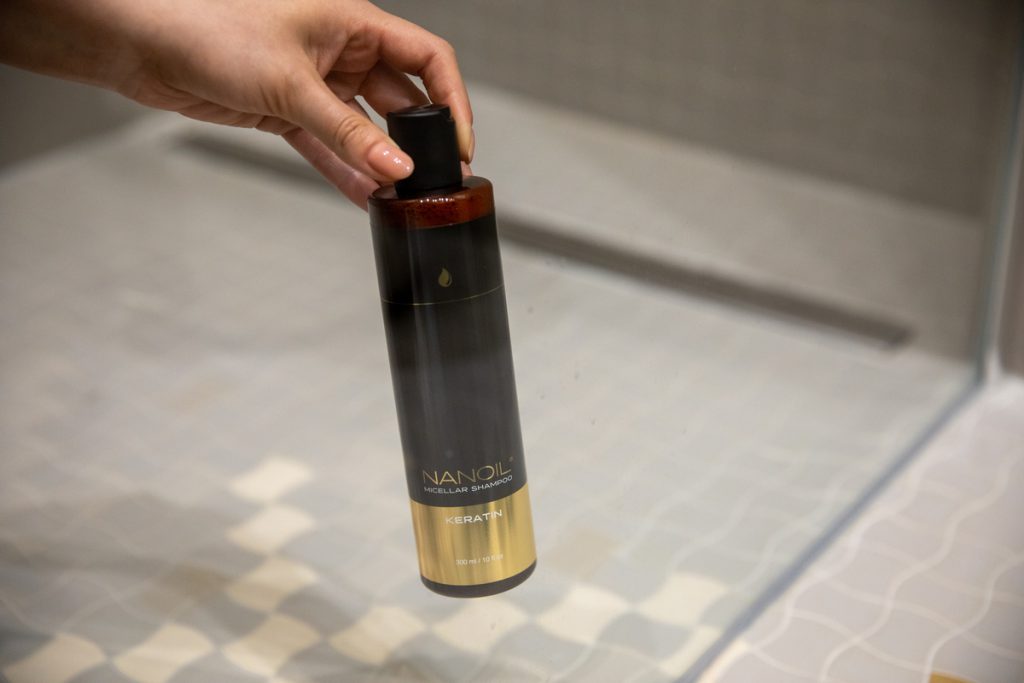 Micellar shampoo with keratin by Nanoil – the first impressions
Let me begin with saying that this was my first micellar shampoo ever, so I hadn't had much experience with such formulas – however, if each of them cleanses the strands so well that you want to wash the hair every day, then I'm all in.
Nanoil Keratin Micellar Shampoo lathers well and is easy to disperse on the hair, meaning that washing is really pleasant (no tangles!). Actually you need to get a really small portion of the shampoo to wash medium-length hair (just like mine), which I consider to be a huge plus because together with the efficiency growing, the costs of hair care drop. So, when it comes to cleaning hair with keratin micellar shampoo by Nanoil then I'M ALL IN, especially that it has a wonderful aroma that lingers on the hair all day. Even if you wash the hair in the morning, you can still sense the smell in the evening.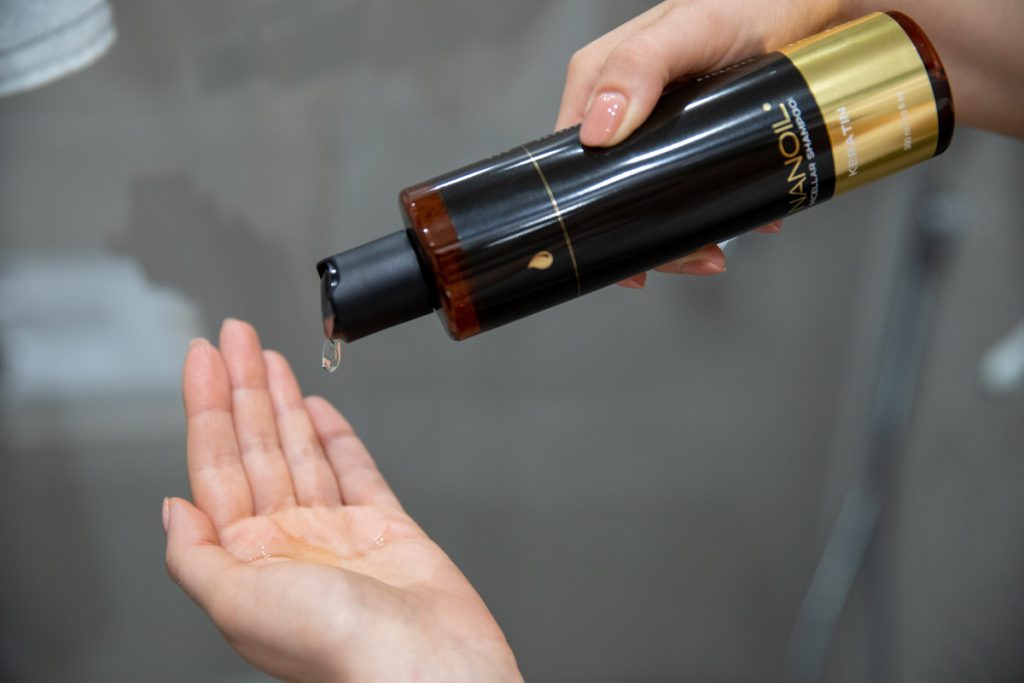 How does Nanoil keratin shampoo cleanse and condition the hair?
PERFECTLY! Undoubtedly, this is a shampoo that is worth giving a go – it doesn't only cleanse the hair but also leaves it fresh and restores pH to the scalp. On top of that, it's enriched with substances responsible for nourishing and repairing the strands. I've been washing my hair with Nanoil Keratin Micellar Shampoo for 3 weeks now and I can already confirm that:
it cleanses my hair like no other shampoo before
it helps me keep the hair fresh for definitely longer
it makes the hair soft, smooth and lustrous
it reduces the risk of irritations and itchy scalp
it eases brushing the hair after washing (prevents tangles)
it makes hair stronger with every washing
it prevents split ends
If you think that this is just a shampoo so you can buy a less expensive one, then let me tell you that this is something more than a regular shampoo – this is a formula that deeply cleanses and nourishes the strands. Naturally, you don't have to believe me – just try it yourself.
Nanoil Keratin Micellar Shampoo – price & accessibility
Okay, I need to tell you honestly that you won't find this shampoo in your local drugstore standing on a shelf with the cheapest beauty products. Still, if I had to choose between just any commercial shampoo stuffed with irritating substances and having no nourishing ingredients whatsoever and this offering – I'd surely buy keratin shampoo by Nanoil once again, and again, and again. Despite being more expensive than the majority of store-bought shampoos, I'd still repurchase it. I just know that I pay for high quality, efficiency and effectiveness. It really pays off!
In case you would like to give this shampoo a go (and it's totally worth it, take my word for it!), let me direct you to nanoil.us where you can add Nanoil Keratin Micellar Shampoo to the cart. Actually, if you want to get the whole line of keratin hair care products launched by Nanoil, you can also add Nanoil Keratin Hair Conditioner and Nanoil Keratin Hair Mask. There are also natural vegetable oils that play in tune with the micellar formula of this keratin shampoo offered by Nanoil.
Buy it, use it and leave comments on it 🙂 Let me know how you like Nanoil Keratin Micellar Shampoo!