Hey there!
Thick and fluffy eyebrows bring out the gaze wonderfully and add a youthful look to the face. This is one of my favorite trends of recent years!
I know that not everyone is happy with the look of their eyebrows. Their daily styling and maintenance might be tricky and time-consuming. Treatments such as eyebrow lamination save time on daily makeup, tame unruly arches, and add definition to thin and sparse ones. Let me tell you how to do brow lamination at home! 🙂
Briefly: what is eyebrow lamination all about?
Brow lamination is an extremely fashionable beauty treatment that aims to shape the brows perfectly, improve the natural brow shape, and give brows a thicker and fuller look. During the treatment, a special solution is used to shape and set the eyebrows in place, making them look fuller. Lamination can be combined with other treatments, such as brow tinting (with a special dye) for an even more spectacular effect. It is a safe and non-invasive treatment that takes less than an hour. How long do the effects of lamination last? Depending on the type of eyebrows (thin or thick and coarse), the effects of an individual eyebrow lamination last about 1-2 months.
My favorite: the ready-to-use Nanobrow brow lamination kit
The Nanobrow brow lamination kit quickly proved to be sensational. It contains everything you need for an at-home treatment, is enough for 10 brow laminations, comes at an affordable price, and looks beautiful. The convenient accessories, skin-gentle formulas, and clear instructions – Nanobrow Lamination Kit is a great kit for home use, even for beauty beginners 🙂 All products are labeled and numbered, so no worries – you won't get confused! It is worth mentioning that this brow lamination kit is often used in professional beauty salons, so I know I can use it without worrying about side effects. After several months of regular lamination, my eyebrows look moisturized, shiny, and full.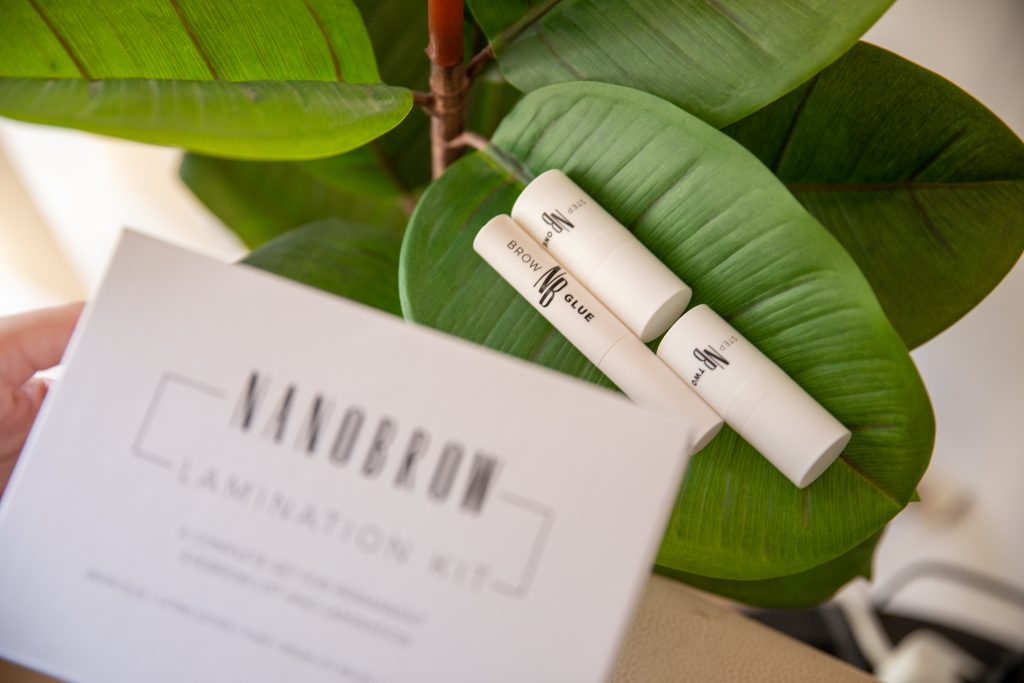 How does the brow lamination treatment work at home?
Once you have our Nanobrow eyebrow lamination kit, prepare everything necessary for the treatment:
eyebrow glue – Brow glue
lifting solution- StepOne Lifting Lotion
fixing solution – StepTwo Fixer
disposable applicators
a brush
a spoolie
Also prepare: some cotton pads and oil-free makeup remover. Find a free hour and give it a go! 🙂
Cleanse your eyebrows and the skin around them with a water-based makeup remover thoroughly. It is important that it is oil-free and leaves no greasy finish.
Brush through your brows with a spoolie.
Apply a little brow glue and use the applicator to spread it evenly.
Wait for about a minute. Do not wipe it off before that time!
Use the brush to apply the lifting solution, shaping the brows into the desired position.
Wait for about 5-8 minutes. After this time, wipe it off with a dry cotton pad.
With a brush, apply the fixer and give your eyebrows the desired shape.
Wait 5-8 minutes and wipe it off with a moistened cotton pad.
Brush through your eyebrows and you're done 🙂
As you can see, eyebrow lamination at home is not difficult. All the steps are clearly explained in the instructions, and the bottles are precisely numbered to avoid any mistakes.
Brow lamination at home is a great hack for the thrifty. One kit costs less than one appointment at a beauty salon and is enough for 10 lamination treatments. It is worth repeating it every 6 weeks or so.
Nanobrow Lamination Kit – at-home brow lamination effects
This brow lamination kit is my undisputed favorite 🙂 All the solutions are gentle even on my irritation-prone skin. And here are the results I noticed following my lamination treatment:
Fuller brow look: by shaping and setting the eyebrows in place, lamination gives them a fuller look, especially when it comes to sparse and thin eyebrows.
Nourishment and hydration: the ingredients of the lamination products penetrate deep into the hair, repairing damages and adding a beautiful shine to the eyebrows.
Easier brow styling: post-lamination, the brows become soft and more manageable – simply brush through them with a spoolie and you're good to go.
Thicker and fuller-looking brows: eyebrow lamination gives brows a more voluminous look. With proper nourishment and hydration, they grow better and fall out less.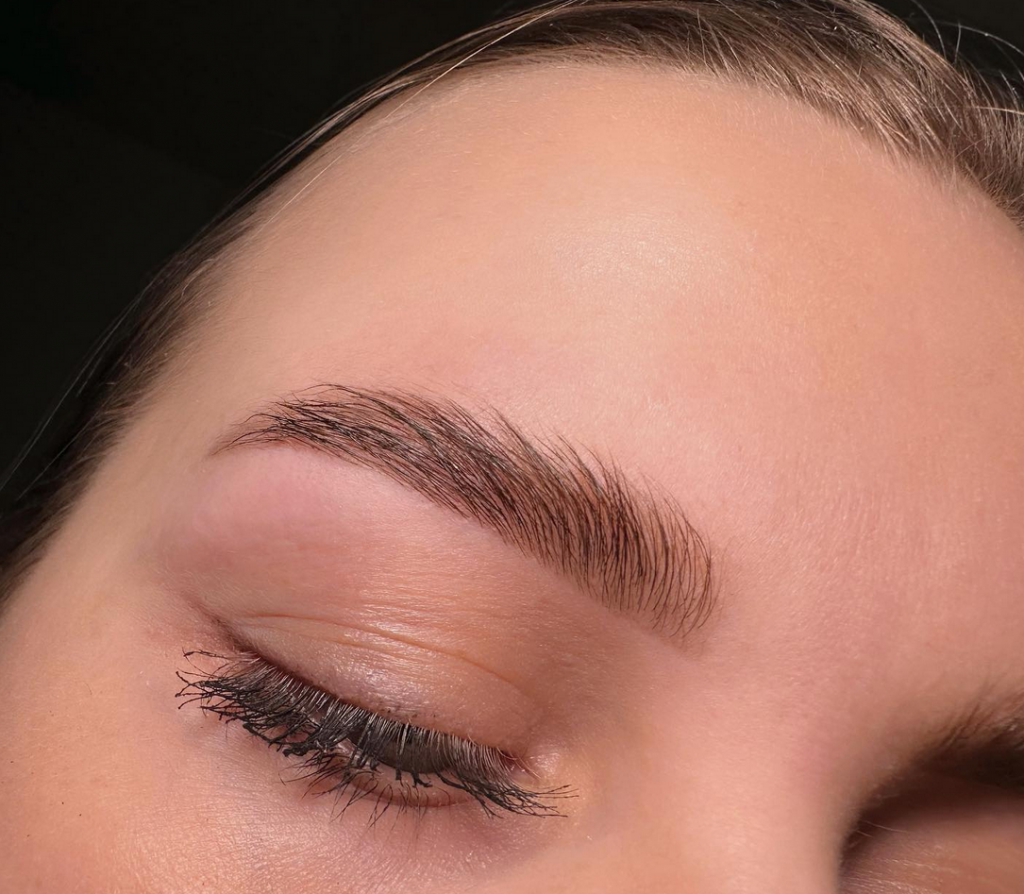 It is a MYTH that brow lamination damages or burns the hair. When done properly, it can even improve the condition of the eyebrows. Follow the instructions and recommendations on the packaging. The treatment can be repeated every several weeks.
If you haven't done eyebrow lamination at home so far, it's time to change that! 🙂
You should go to nanobrow.us, that's where you can find my favorite brow lamination kit – Nanobrow Lamination Kit but you can also easily order it from Ebay or Amazon, or find it in your local drugstore or renowned beauty chain stores like Douglas.
Without further ado, brow lamination is an easy and quick way for a brow makeover, which you can easily do at home. Let me know in the comments section how you like your brow lamination results!
Kisses! 🙂